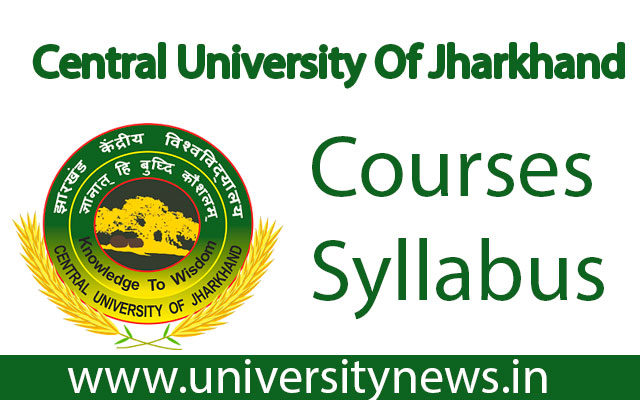 Get here Central University Of Jharkhand Courses And Syllabus. Many of the candidates are looking for courses offered b y Central University of Jharkhand to take admission in University. The students of University are looking for syllabus of courses. So, to help the students we have writtenthis post, Here in this article you can get complete info. on Central University of Jharkhand courses and syllabus.
Central University of Jharkhand is one of the top Central University in India. The Central Universities are founded in India to provide higher education to the students. The University is located in Ranchi, Jharkhand, India. This University is a teaching and research university established by an act of Indian Parliament. This is a Central University established in 2009. The University conducts entrance test  to the students to offer admission into University.
About Central University of Jharkhand CUJ
Also see: Central University of Jharkhand Question Papers
Central University of Jharkhand Syllabus & Courses
Students, now here you can get details on courses and syllabus offered by Jharkhand University. In this part you can find list of various academic courses offered by University and also find syllabus links.
Central university of Jharkhand Syllabus
This section gives you the details on CUJ syllabus of courses. Here you can find download links of syllabus for all courses which you can easily view and download syllabus.
CUJ PG Courses Syllabus
Ph.D. Courses List
Central University of Jharkhand Courses
Here you can get details on list of courses offered by University. The University offers PG and Ph.D. courses in many disciplines. Let's find here list of Central University of Jharkhand Courses.
PG Courses List
M.Sc. Maths
M.Sc. Chemistry
M.Sc. Physics
M.Sc. Life Science
M.Sc. Environmental Sciences
M.Sc. Geoinformatics
M.Tech. Water Engineering & Management
M.Tech. Energy Engineering
M.Tech. Nanotechnology
M.Tech. Computer Science & Engineering
M.Tech. Transport Science & Technology
M.Com. Commerce & Financial Studies
MBA
M.A. Mass Communication
M.A. English
M.A. Politics & International Relations
M.A. Anthropology & Tribal Studies
M.A. Ancient Indian History & Archeology
M.A. Folklore
M.A. Performing Arts (Vocal Music)
M.A. Performing Arts (Theatre Arts)
M.A. Tribal Law & Governance
LLM.
M.A. Hindi
CUJ Ph.D. Courses List
Ph.D. in Maths
Ph.D. in Chemistry
Ph.D. in Physics
Ph.D. in Lifescience
Ph.D. in Environmental Sciences
Ph.D. in Geoinformatics
Ph.D. in Water Engineering & Management
Ph.D. in Energy Engineering
Ph.D. in Nanotechnology
Ph.D. in Business Administration
Ph.D. in Mass Commuunication
Ph.D. in English
Ph.D. in International Relations
Ph.D. in Performing Arts
Ph.D. in Tribal & Customary law
Ph.D. in Economics/Sociology
Ph.D. in Tribal Studies
Ph.D. in Education
Ph.D. in Computer Science & Technology
Ph.D. in Tibetan Language
So, students follow this article to get details on Central University of Jharkhand courses and syllabus. If you have any queries regarding this post, please do comment in below comment box, we will reply as soon as possible. Keep visiting our site for more updates. Thank you for visiting our site team @ www.universitynews.in